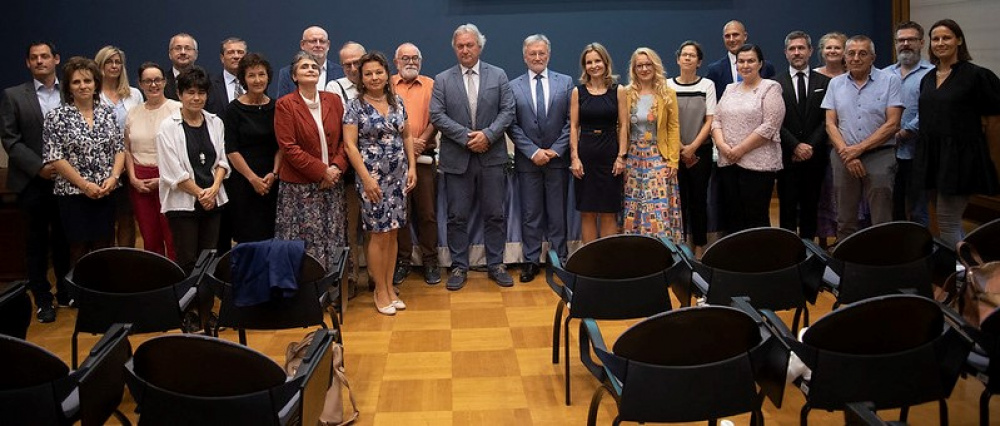 Fotó: mta.hu / Szigeti Tamás
RG leader: Tamás Csányi
Research area
During child development, movement is one of the most important functions, manifesting as a central driving force of psychosocial and cognitive development. The assessment of movement and the methodology of motor training and therapy are important fields of educational science. We posit that in these fields – especially in case of motor therapies – the application of evidence based approaches is very limited in Hungarian preschool and school settings and other institutions providing training and therapy for children. A further issue hindering optimal motor development is the adverse effect of the substantial decrease in motivation and physical activity observed in late childhood on the efficiency of physical education.
The research group's own website: under construction....
RG leader: Csaba Csíkos
Csaba Csíkos (1972) completed both his Msc in Mathematics and Geography and MEd in Educational Assessment in 1996 at the University of Szeged. He obtained PhD in Education in 2001 there as well. From 1999 until 2016 he worked in different academic positions at the Institution of Education in Szeged. From 2017 until 2021 he served as Vice-Dean at the Faculty of Primary and Pre-School Education at ELTE Eötvös Loránd University. He has obtained the DSc degree from the Hungarian Academy of Sciences in 2018 and became full professor of Education in 2019. From 2021 he is head of the Department of Educational Evaluation and Planning at the University of Szeged. His major research interests are: strategic components of thinking; metacognitive aspects of mathematical thinking (with a focus on word problem solving) and reading comprehension, students' and teachers' beliefs on different aspects of teaching and learning. He was the principal investigators or consortium member is several research project focusing on metacognition, and mathematics and science education.
Csaba Csíkos' publication list includes 14 Scopus-referenced items in English, several further books and articles in Hungarian and English, and numerous conference presentations. He has been asked to give plenary talks at the 1st and 2nd International Conference on Elementary Education held in Beijing, China, by the Capitol Normal University. He has had memberships in two international scientific communities: European Association for Research on Learning and Instruction (EARLI), being conference manager in 2007, and member of the International Programme Committee (2005, 2007, 2009), and International Group for the Psychology of Mathematics Education (PME), being conference chair in 2016, and member of the International Committee from 2014 to 2018. He has been supervisor of twenty PhD candidates; eight of them have already earned the degree.
Research area
The main aim of the research group is to study and further enrich the research questions of measuring, developing, and fostering the metacognitive components of two complex and culturally highly relevant fields, mathematical thinking and reading comprehension. Our investigations primarily focus on children aged 3 to 12, since according to the available international and domestic research results, improving the metacognitive components (which are often labelled as 'strategic components') of children's thinking can yield impressive gains in their cognitive achievement. Besides the development and adaptation of various measures, the expected results of our experimental training programs enable the development and refinement of both educational tools and instructional methods; and furthermore, curriculum development of teacher training and continuous professional development programs become feasible.
The research group's own website: under construction...
RG leader: Kata Csizer-Wein
Researh area
Members of team teach at the Department of English Applied Linguistics, School of English and American Studies at Eötvös Loránd University, Budapest. They have a wealth of experience as researchers and teachers in Hungary and abroad. The main aim of the team's applied linguistic and language pedagogy research is to find ways, both in terms of theory and practice, which can make language pedagogy more effective in various teaching environments, from public and higher education to the corporate context. In investigations, they attach particular importance to the role of English as a lingua franca and its impact on the teaching of English and other languages, to complex dynamic systems and to a task- and problem-oriented approach to both classroom and online teaching. They also pay special attention to the experiences and practices teachers have as well as the changing educational environment, including the role of regulations in the Hungarian context.
The research group's own website: http://nyelvoktatas.elte.hu/
RG leader: Andrea Farsang
Researh area
The research group consists of experts in Geography methodology and IT at three universities with teacher training centres (Szeged, Debrecen, Pécs), faculty members of the Department of Geography at the Humboldt University and the SZTE Institute of Psychology, the Geography content development supervisor at the Educational Authority and several primary and secondary school teachers in Szeged, Pécs, Kiskunhalas and Debrecen. Group leader is a renowned figure of Geography methodology research and the author of three books and many key publications of the renewal of teacher training. The main purpose of the research group is to explore the efficiency of Geography textbooks (both traditional and online) and subject-specific research materials by eye tracking devices in order to propose ideas for further development. Analysis of eye tracking data and visualizations will help us explore how much time primary and secondary school students spend on the visual stimulus, what components they tend to ignore or seem to pay more attention to. Findings on students' strategies of exploring these materials can be integrated into their development.
The research group's own website: http://foldrajzmodszertan.hu/english/
RG leader: Jozsef Balazs, Fejes
Researh area
Reading comprehension skills are fundamental not only from the perspective of succeeding in school but also in everyday life. Although in general, reaching an optimal level of reading comprehension requires about a decade of skills development, no specific focus is put on developing reading skills after grade 4 in the Hungarian school system. This project aims to develop and launch an intervention program which targets upper elementary (grades 5–8) teachers to empower them to enhance and monitor the reading achievement and reading motivation of their students within the framework of the subject they teach. In addition, the project examines the relationship between text formats and cognitive aspects to reading; and explores, among others, upper elementary students' familiarity with the content of different text formats and reading comprehension text types, as well as their preferences and perceptions about text difficulty.
The research group's own website: under construction...
RG leader: Éva Gyarmathy
Dr Éva Gyarmathy is a clinical and educational psychologist, lecturer at AVKF, founder and head of the Atypical Development Methodology Centre.
Her main research areas are atypical development, such as profoundly gifted or twice-exceptional talent, learning, attention, hyperactivity, and autism spectrum disorders. She participates in the research and development of methods to improve the effectiveness of cognitive and learning skills, focusing on motion, arts, games requiring algorithmic/strategic thinking.
These methods can be integrated into everyday teaching, and with her professional support, in the framework of complex and targeted development programs, and they have already appeared in practice.
Researh area
Ability-structure differences among and within individuals grow significantly in a widened stimulus space. Increased diversity and uneven neurodevelopmental maturation necessitate the introduction of a personalised learning environment that can be implemented in a cognitive-developmental approach.
The transformation of the learning environment must take place simultaneously in three different spaces: educational-psychological, info-communicational, spatial-architectural.
In our research, we explore two interrelated issues:
The learning environment can be transformed into a developmental environment within the current educational framework, integrating sensory-motor and language developmental training into learning.
In the first two years of primary school, the transformation of the learning environment — arrangement of the classroom, motion development tools in the classroom, digital learning, learning cards, and other sensorimotor and language training built into everyday learning that underpins cognitive functioning — significantly reduces the incidence of school failure.
The research group's own website:
https://tanulas-kutatas.hu/learning-enviroment/
RG leader: Miklós Győri
The leader of the research group is Dr Miklós Győri, associate professor at the Institute for the Psychology of Special Needs, 'Bárczi Gusztáv' Faculty of Special Education, ELTE University. His research interests include ICT-based assistive, educational, diagnostic and research methods, the psychology and pedagogy of the autism spectrum, and the psychology of human disabilities. His interest in basic research in autism is represented by his monograph Autism and cognitive architecture (Akadémiai Kiadó, 2006), while his focus on partly applied research in technology, education and atypical human abilities is shown by the volume Touching the Future Technology for Autism? (IOS Press, 2012), co-edited and co-authored with Joseph Mintz and Morten Aagaard. Since 2010, he teaches primarily in the special education programme of ELTE University, but he has also taught in the psychology programme of ELTE, and had been a regular external lecturer at the University of Vienna, between 1995 and 2017.
Researh area
The group was formally founded in 2016, due to a grant from the Content Pedagogy Research Program of the HAS. However, the professional community in its core have been working together since the 1990's. The group integrates research and practice competencies from special education, psychology, human-technology interaction, and health sciences. Its overall aim is to develop and validate evidence-based methodologies via close cooperation between pedagogical and psychological research and practice, in order to enhance the life quality, autonomy, developmental perspectives and social inclusion of pupils and students with autism. Its primary context is education. The group begins to adapt the digitally-aided educational and assistive methodologies to be created in the 2021-2025 research period with the main focus on autism to learners with other special educational needs, and their teachers, too.
The research group's own website:
http://maszk.elte.hu/index.php/en/welcome/
RG leader: Ferenc Honbolygó
Ferenc Honbolygó is a cognitive psychologist, working as senior researcher at the ELKH Research Centre for Natural Sciences, Brain Imaging Centre, and the head of the Neurocognitive Development Research Group. He obtained his PhD degree in 2010 at Eötvös Loránd University. His research interest is focused on how the human brain deals with speech and music. In his research, he uses event-related brain potentials and fMRI methods to examine human brain function. He has participated in several international and national research projects and published over 40 scientific articles as well as several book chapters in Hungarian. In 2017, he won the János Bolyai Scholarship of the Hungarian Academy of Sciences. In addition to his research, he teaches at the Faculty of Pedagogy and Psychology of Eötvös Loránd University.
Research area
New Technologies in Recognizing Reading Difficulties and Developing Advanced Training Methods
In this research, we examine music-based training opportunities that can improve the language and reading skills of children with reading difficulties. The primary goal of the project is to develop new music training methods and investigate their effects using multimodal measurement methods. A further aim of the application is to effectively screen for reading difficulty using online methods. Early and accurate diagnosis of reading difficulties is currently inadequately addressed and reading difficulties may remain virtually unnoticed in students whose difficulty is not severe or is not associated with other developmental difficulties (e.g., speech impairment, attention disorders). The third objective of the research is to study the cognitive processes underlying reading difficulty and to examine the background of cognitive abilities that develop as a result of music training. The members of the research group are prominent representatives of several disciplines (psychology, cognitive neuroscience, special education, music pedagogy), who have previously participated in joint collaborations on several occasions.
The research group's own website: under construction...
RG leader: László Kasik
Research area
The results of previous international studies on school failure have shown that this is a very complex, cognitive, emotional, motivational, interpersonal and socio-cultural phenomenon. The individual and systemic treatment of school failure can be effective and efficient only by taking this complexity into account. One of the aims of the MTA-SZTE School Failure Research Group is to explore the causes of failures, their emergence, their manifestations and their relationship with other phenomena (e.g., coping, burnout, academic achievement) among primary school students (7–14 years old) in a four-year longitudinal study. In addition to examining the nature of school failure, which is considered to be one of the main causes of early school leaving, the aim is also to explore not only the individual but also the interpersonal resources of the students. The results of the research, involving students and teachers, will greatly help in the improvement and implementation of a school development program to help reduce and eliminate failures, as well as the creation of teacher training and a methodological book for teachers.
The research group's own website: under construction...
RG leader Peter Medgyes
Research area
The research group, comprised of lecturers from ELTE TÓK's Department of Foreign Languages and Literature, felt that the need for emergency remote teaching during the COVID-19 pandemic necessitated the exploration of ICT tools and the recognition of their increased relevance in supporting early childhood language education. The aim of this research project is to examine the methodological knowledge and practices applied by primary school teachers before, during, and after the 2020/21 period of online teaching. The research group hypothesizes that innovative approaches, competencies, and experiences can be effectively integrated into in-person language education when the educators' technical skills complement their familiarity with subject pedagogy. This developmental research programme focuses upon the question of how language teachers have adapted in-person methods and techniques to the digital environment. Our research aims to investigate what experiences, views, and attitudes educators have gained during the COVID-19 period while also examining how these changes have expanded their methodological repertoire and influenced their professional competencies. The project's resultant compilation of professional methods and best practices will further support language educators teaching in public schools.
The research group's own website: under construction...
RG leader: Gyöngyvér Molnár
Research area
The studies implemented within the project seek to answer the question of how technological devices can be used most effectively in students' learning and development. The research thus employs digital tools that are available in schools in an effort to implement personalized development while analysing log data to profile students (e.g. to examine behaviour patterns and visualize learning and thinking processes). The investigations make use of adaptive, i.e. personalized, methods of assessment and development to facilitate the measurement and development of thinking skills, cross-curricular competences and other skills that are indispensable for effective learning in reading comprehension, scientific thinking and transversal thinking skills. Measurements with a scientifically rigorous design and control group developments will aid in putting evidence-based devices and methods in the hands of teachers and thus effectively facilitating the implementation of personalized teaching and development.
The research group's own website: http://edu.u-szeged.hu/dttk/
RG leader: Judit Podráczky
Research area
The MTA-MATE Early Childhood Research Group builds on the foundations laid down by the Institute of Education of the Hungarian University of Agriculture and Life Sciences and the Institute of Education of the University of Szeged. The primary aim of the Research Group is to improve and reform the health and environmental education and associated educational programs for children aged between 4 and 8 years. This includes developing standards for studying health and environmental practices as well as diagnostic instruments, which, building on these standards, help teachers in their everyday activities. In addition, the Research Group is also developing and testing an intervention program which supports children in developing their own health and environmental practices. The process of developing these standards includes a large-sample study. Furthermore, an experimental group design will be used to assess the intervention program's impact. Participants of these studies will include 4–6-year-old preschool children and grade 1 and grade 2 elementary school children.
The research group's own website: under construction...
RG leader: Gabriella Pusztai
Research area
The aim of the research team is to develop the activities of teachers that strengthen parental competencies and commitment to education. Motivating students, goal setting, learning support, and exploring the developmental potential of leisure activities are challenging parenting tasks. In Hungary the intensity of parent-teacher cooperation lags behind expectations in comparison to international data, while the effect of family background is particularly strong, which determines the content and quality of parenting activities at home, parental aspirations, and also the school performance of students. Cooperation with parents is a prerequisite for high value-added instruction and skill development, therefore the research group explores the working mechanisms of effective school practices and develops procedures that, when integrated into teacher education and in-service training, result in the development of teacher-parent cooperation and the strengthening of parental competencies.
The research group's own website:
https://ni.unideb.hu/hu/bemutatkozas-mta-de-csaladok-es-tanarok-kooperacioja-kutatocsoport
RG leader: Zsuzsa, Rákosy-Vokó
Research area
The main objective of our multidisciplinary research group is to develop and test the effectiveness of a long-term sustainable complex programme in the field of school health promotion, ÍME (Innovative Pedagogical Tools and Multimedia Solutions for the Health Promotion of Children in the 21st Century), which contributes to the physical and mental health development of both students and teachers. The methodology will be developed and implemented in collaboration with experts from the disciplines of pedagogy, psychology and public health at primary and higher education levels. The ÍME methodology will include a holistic approach to health through cross-curricular representation in the school pedagogical programme, through the nurturing of teachers' professional personalities, the promotion of children's health through modern multimedia tools and various interactive phenomenon-based teaching methods. The ultimate aim of the programme is to equip newly qualified teachers with knowledge and skills to effectively implement health promotion activities in their daily work and to consciously use burnout prevention behaviours in their career.
The research group's own website: under construction...
RG leader: Luca Szalay
Research area
The experience of our research team's previous five-year project calls for caution in terms of the degree of autonomy and enthusiasm that can be expected from students aged 13-16 when applying the inquiry-based approach to chemistry teaching. Therefore, we want to reduce the cognitive load of the nearly one thousand students involved in the present project (who start 7th grade in September 2021) during their four-year chemistry studies, by making it easier for them to learn the process of experimental design using a template. One of the experimental groups completes this template after performing the step-by-step experiments. For the other experimental group, we help the experimental design process by applying the template. The control group still performs only conventional, step-by-step experiments. On the other hand, in order to increase motivation, we try to combine inquiry-based teaching with the system thinking method. In doing so, the goal is for students to understand how the things learnt by the help of our worksheets fit into the processes that influence the solutions of the big tasks facing humanity and how those affect their own lives.
The research group's own website: http://ttomc.elte.hu/publications/90
RG leader: Erzsébet Piroska, Szurdoki
Research area
Our reserch group was formed from the lecturers of the ELTE Faculty of Primary and Pre-School Education and teachers of ELTE Gyertyánffy István Training Primary School.
The new National Curriculum that was introduced in September 2020 created a challenge for primary schools considering, among others, the learning of natural sciences. The quick execution left little time for the conscious and deep study of the changes e.g. the integration of the contents of the subject Environmental Studies - that was left out from the Year 1 and Year 2 curriculum - into other subjects. Our research group provide adequate answers to this situation.
The attitude and knowledge about natural sciences of Year 3 and Year 4 pupils are to surveyed by questionnaires, then compared to the pupils of upcoming years beginning their studies after the introduction of the new curriculum. Experiences of participating teachers and institutions are also to be considered. The elaboration and implementation of environmentally conscious projects would take place in ELTE Gyertyánffy István Training Primary School, ELTE Faculty of Primary and Pre-School Education and partner schools that would be institutions of the adapted good practice in the future considering teaching methods (creating a school garden, presenting lessons, recording video lessons, school programs with the aim of creating environmentally and health conscious behavior).
The research group will develop a teaching material for practical use for primary schools and another for the faculties of primary education. Finally, we would organize a national conference with invited foreign experts to introduce and discuss the results and materials.
The research group's own website: under construction...
RG leader: Klára Tarkó
Klára Tarkó, PhD. habil. is a College Professor, Head of the Institute of Applied Health Sciences and Environmental Education and the Department of Health Sociology and Lifestyle, Juhász Gyula Faculty of Education, University of Szeged. She is Vice-Dean for Education and Innovation at the Faculty (2020-2025). She received her secondary-school teacher of Physics and English degree at the József Attila University of Szeged in 1995, and in 2007 she received her Sociology Master's degree from Eötvös Loránd University. Between 1995 and 1998 she was a full-time PhD student in the Doctoral School of the Department of Education, Development of Cognitive Competence Programme at József Attila University of Szeged, Faculty of Arts. She defended her dissertation titled 'The connection between text comprehension, learning from written texts and metacognition in school years" written in English in 2000. She habilitated in 2014 at the Doctoral School of Education, Faculty of Arts, University of Szeged, in the topic of 'Lifestyle – Choice'.
Her main research fields are the unequal health opportunities of minorities and healthy lifestyle. She is member of several national and international scientific committees, between 2014 and 2018 she was Vice-President at Large of the Sociology of Leisure Research Group of the International Sociological Association, where she is a Board Member now. Since 2019 she is president of the Health Promotion Workgroup within the Szeged Branch of the Hungarian Academy of Sciences, Medical Committee. She is editor or member of the editorial board of several national and international journals. She is co-director and active researcher of the Health Promotion Research Group in Szeged, fulfilled project coordination tasks in case of several national and international projects. She is professional leader of the project No. EFOP-3.4.3-16-2016-00014 at the University of Szeged (2017 – 2021). She is supervisor at the Doctoral School of Education, Faculty of Arts and Social Sciences, University of Szeged.
Research area
The members of the research group are educators-researchers committed to health promotion. The host institute of the research group is the Institute of Applied Health Sciences and Environmental Education (and its predecessors) at the Juhász Gyula Faculty of Education, University of Szeged which educates health promoter and mental health promoter professionals since 1992. The graduates of the Institute are competent in promoting health in the communities and organizations that have the greatest impact on everyday life, for the sake of helping people gain more influence over the natural and social environment that determines their health and well-being, as well as change their own lifestyle and habits. The research, grant and publication activities of the Institute also serve the above purpose. The host institute works in close cooperation with the head and colleagues of the Institute of Applied Pedagogy at the Juhász Gyula Faculty of Education and the vice-director of the Centre for Teacher Training at the University of Szeged, as well as with professionals from Eötvös Loránd University, the National Public Health Centre, the Centre for Social Sciences and the Association for the Renewal of Hungarian Public Health - Public Health 3.0.
The research group's own website:
http://www.jgypk.hu/tanszek/alkegeszseg/mta2021/index-mta2021.html
RG leader: Ödön Vancsó
Research area
Our research group is the fusion of two projects of the MTA-ELTE Complex Mathematics Education Research Group and MTA-Rényi Research Group on Discovery Learning in Mathematics, which run between 2016 and 2021 within the MTA's Content Pedagogy Research Program. The aim of the new research group is to support the widespread implementation of discovery learning in mathematics education, to develop and adapt the existing practice to today's challenges. We aim to better communicate our educational traditions to the international research community in Mathematics Education and to integrate the modern international research trends into domestic research, development and experimentation. The participants of our group are researchers, PhD students and teachers from different levels of mathematics education working in different regions of the country or across the border. Within the framework of the project, we will provide an opportunity for previously isolated researchers to work together and to become more intensively involved in international research, connecting as many young researchers and PhD students as possible.
The research group's own website: under construction...
(erlier: https://sites.google.com/view/mtakomplexmat )

RG leader: Aranka Varga
Research area
Our research group is involving an institution running the János Arany Program and its primary school partners in a four-year research and development project to alleviate the educational difficulties of school enrolment in disadvantaged Roma communities by developing, testing, and measuring the impact of a complex career guidance mentor programme. The development will be preceded by a review of the relevant international literature as well as the exploration of all successful Hungarian program developments and will build on these findings the elaborate details of the mentoring work. At the same time, a research toolkit will be established to measure the impact of development in a variety of aspects at different phases. Finally, the development will be described in a model form, and the results of the developments will be presented in various teacher forums, incorporated into instructional and professional development courses, and will be the subject of publications and conference presentations.
The research group's own website:
https://btk.pte.hu/hu/Oktatasi-Eselyekert
RG leader: Annamária Zsákai
Research area
The MTA-ELTE research team aims to provide an online platform to access educational resources for supporting school-aged children's health behaviour development in the topics of Sex education, Nutrition and physical activity, Substance use, Hygiene education, Online activity, Environment awareness.
The modules of the educational package will introduce the most important health-related facts by considering the age characteristics and knowledge of children (based on the National Curriculum), and will contain interactive tests to support the sufficient learning of children.
It is also planned to collect data on (1) the knowledge and attitude of children in the topics, (2) the life style factors of children, as well as to conduct smaller researches in health-related topics.
The members of the team are all have PhD degree, most of the lecturers are associate
The research group's own website: https://egyk.elte.hu/