Why is it easy for a penguin to become a parent, and why is it difficult for a seal? How can a "recovery" beer in the morning help one survive the consequences of a rough night out the previous day? Merging black holes, gravitational waves, a virtual walk among molecules and love in the time of syphilis. These are just some of the topics addressed during the semifinals of FameLab, the international science communication competition. which was held for the first time in Hungary.
---
17 April, 2018
---
2018 marks the first time the Hungarian Academy of Sciences and British Council Hungary held the FameLab science communication competition in Hungary. The aim was to find people who can recite important scientific topics in an inspiring and exciting manner. Participants had only three minutes to prove their worth to the audience and members of the judging panel through their mini lecture's content, clarity and style.Please click here too see our photo gallery of the event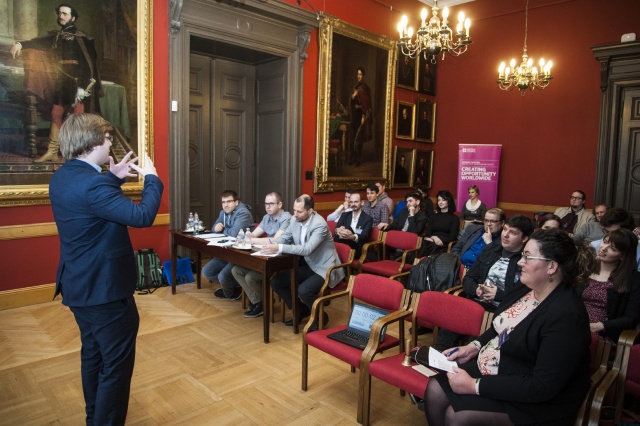 mta.hu/Tamás Szigeti
The semifinals were held in the palace of the Hungarian Academy of Sciences. The 46 participants' topics ranged from science, technology, IT to mathematics. Expert judges evaluated the presentations based on content and style and selected the 14 best speakers. They will go on to participate in a master course organised by the Academy and British Council experts after which they will be competing in the national round on 14 May. This will be held in the Ceremonial Hall of the Palace.
The winner of the Hungarian round will travel to the international final of Famelab at the Cheltenham Scientific Festival. Following is the list of participants who qualified for the finals:
| | | |
| --- | --- | --- |
| Name | Field | Lecture |
| Zsombor Boromisza | Agricultural science | The river bank is for you |
| Gergely Dálya | Physics | Seeking merging black holes |
| Béla Fiser | Chemistry | A virtual walk among molecules |
| Péter Jenei | Physics | The moving clock – the relativity of time |
| Ágnes Kis-Tóth | Physics | How to save lives through the science of complexity |
| Christina Miskolczi | Biology | Connection between social neglect during infancy and pathological aggression during adulthood |
| Judit Mokos | Biology | Why is it easy for a penguin to become a parent, but why is it difficult for a seal? |
| Janka Sára Molnár | Physics | What am I without science? |
| Orsolya Rita Molnár | Biology | Love in the time of syphilis – lizards and their parasites |
| Benjamin Papp | Medical science | Hair of the dog that bit you |
| Gergő Pintér | Mathematics | The moment of change |
| Lajos Rózsa | Biology | We live on an infected planet |
| Szabolcs Szilágyi | Technical sciences | Effectively about electricity |
| Tamás Álmos Vámi | Physics | The universe from zilch?! |