The election was held throughout a 24-hour period between Monday and Tuesday evening during the 193rd General Assembly of the Hungarian Academy of Sciences, in which academician and neurobiologist Tamás Freund came out victorious. Professor Freund will be replacing Professor László Lovász, who has served for the past 6 years at the helm of the institution founded by István Széchenyi in 1825. For the upcoming 3-year term Professor László Péter Kollár, a civil engineer, was elected as new Secretary-General, while the new Deputy Secretary-General will be the immunologist Professor Anna Erdei. The General Assembly have also elected the 3 new Vice Presidents. The leaders of the Academy may be re-elected once after their first term of office expires.
---
7 July 2020 (updated on 8 July 2020)
---
The official results of the election
Out of the 555 General Assembly members with voting rights, 429 participated in the presidential elections. Tamás Freund received 251 (58.51%) of the votes, while 169 participants (39.39%) voted for Csaba Pléh. In the election of the Secretary-General, 425 votes were cast in total. László Péter Kollár received 278 affirmative votes (65.41%), while 136 votes (32%) went in favour of Gábor Blaskó. The total of votes cast in the election of the Deputy Secretary-General was 428. Of these, Anna Erdei collected 298 (69.63%), while Attila Demény received 124 votes (28.97%). Vanda Lamm (Vice President for Social Sciences) was elected with a majority of 52.47%, while Ferenc Hudecz (Vice President for Natural Sciences) took 57.28% of the votes cast, the two leaving their respective opponents András Kertész and József Bokor, with 43.67% and 41.78% of the votes respectively. The third vice presidential position (Vice President for Life Sciences) was finally taken by György Kosztolányi after a second round was necessary since none of the candidates had received 50%+1 of the votes in the first round. In the election of the third vice president, 365 votes were cast in total, of which 191 (52.33%) were in favour of Professor Kosztolányi, while his opponent, Professor Eörs Szathmáry collected 173 (47.4%).
President
Tamás Freund
(born: Zirc, 14 June 1959)
Member of the Academy, institute director, research professor, full professor

Section of Biological Sciences
full member: 2004, corresponding member: 1998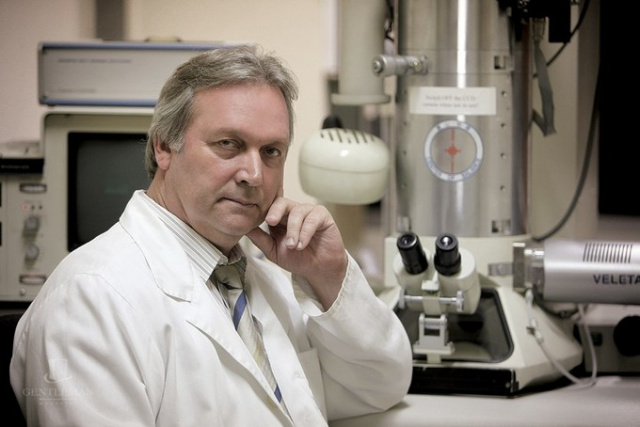 Tamás Freund
credit: mta.hu
Research fields: structure and operation of the cortex; formation and function of oscillations; brain damage caused by epilepsy and ischemia; pathomechanism of anxiety and addiction; the functioning of the endocannabinoid signalling system
Major awards: The Brain Prize (2011), Commander Cross of the Order of Merit of the Hungarian Republic (2011), Széchenyi Prize (2005), Academy Prize (1997)
Institute of Experimental Medicine (KOKI)
1083 Budapest, Szigony utca 43.
Tel.: +36 1 2109411
E-mail: freund [at] koki [dot] hu
Secretary General
László Péter Kollár
(born: Budapest, 4 January 1958)
Member of the Academy, full professor
Section of Engineering Sciences
full member: 2007, corresponding member: 2001
László Péter Kollár
credit: mta.hu/Tamás Szigeti
Research fields: composite structures, supporting structures, earthquake engineering
Major awards: Széchenyi Prize (2015)
Budapest University of Technology and Economics
Faculty of Civil Engineering
Department of Structural Engineering
1111 Budapest, Műegyetem rakpart 3–9.
Tel.: +36 1 4632315
E-mail: lkollar [at] eik [dot] bme [dot] hu
Deputy Secretary-General
Anna Erdei
(born: Budapest, 15 January 1951)
Member of the Academy, research group leader, full professor
Section of Biological Sciences
full member: 2010, corresponding member: 2004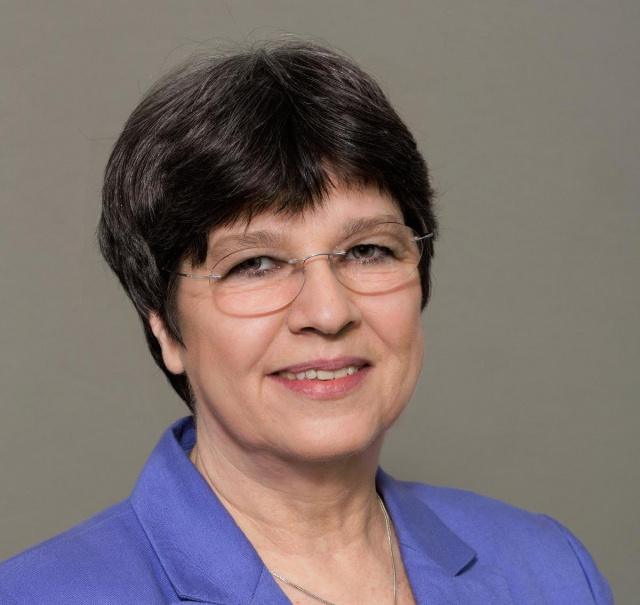 Anna Erdei
credit: elte.hu
Research fields: formation of immune response, regulation of immune processes, role of innate elements of the immune system (complement system, mf, DC), connections to the adaptive immune system, activation of lymphocytes
Major awards: Széchenyi Prize (2011), Ipolyi Arnold Prize (2014)
MTA-ELTE Immunology Research Group
1117 Budapest, Pázmány Péter sétány 1/C
Tel.: +36 1 3812175
E-mail: anna [dot] erdei [at] ttk [dot] mta [dot] hu
Vice-President (life sciences)
György Kosztolányi

(born: Szekszárd, 10 March 1942)
Member of the Academy, Chair of the Section of Medical Sciences, professor emeritus
Section of Medical Sciences
full member: 2007, corresponding member: 2001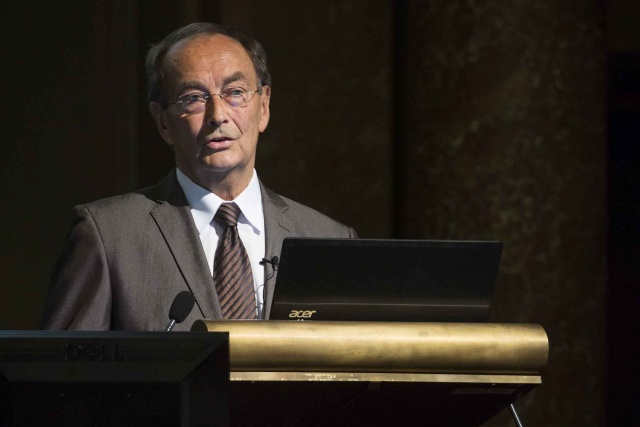 György Kosztolányi
credit: mta.hu/Tamás Szigeti
Research field: clinical genetics

Major awards: Széchenyi Prize (2013), Academy Prize (1999)
University of Pécs
Faculty of General Medicine
Clinical Center
Institute of Medical Genetics
7623 Pécs, József Attila utca 7.
Tel.: +36 72 535976
E-mail: kosztolanyi [dot] gyorgy [at] pte [dot] hu
Vice-President (social sciences)
Vanda Lamm
(born: Budapest, 26 March 1945)
Member of the Academy, Chair of the Section of Economics and Law, retired research professor, professor emerita
Section of Economics and Law
full member: 2013, corresponding member: 2007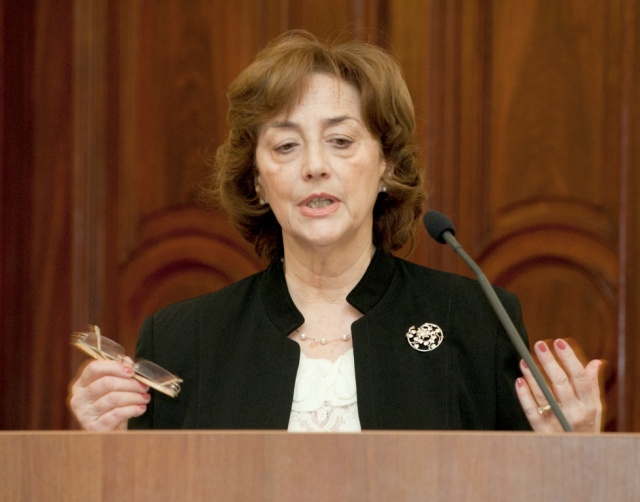 Vanda Lamm
credit: mta.hu/Tamás Szigeti
Research fields: law, international law
Major awards: Academy Prize (1995), Deák Ferenc Prize (2012)
Centre for Social Sciences
Institute for Legal Studies
1097 Budapest, Tóth Kálmán u. 4.
Tel.: +36 1 2246700
E-mail: lamm [dot] vanda [at] tk [dot] mta [dot] hu
Vice-President (natural sciences)
Ferenc Hudecz

(born: Budapest, 12 September 1952)
Member of the Academy, full professor
Section of Chemical Sciences
full member: 2016, corresponding member: 2010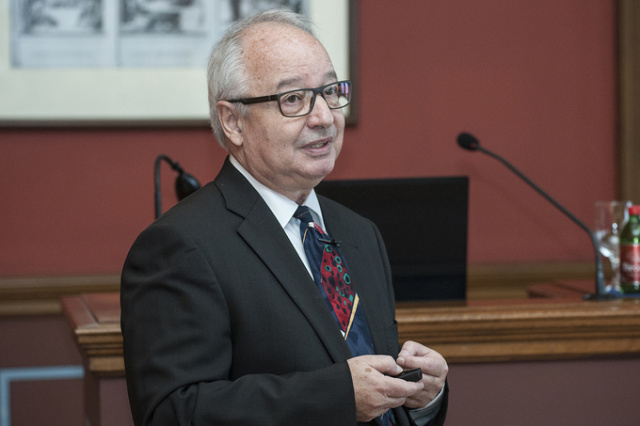 Ferenc Hudecz

credit: mta.hu
Research fields: chemistry of peptides and proteins, biomolecular chemistry, immunochemistry
Major awards: Pro European Peptide Society Award (2016), Academy Prize (1996)
Eötvös Loránd University
Faculty of Natural Sciences
Institute of Chemistry
Department of Organic Chemistry
1117 Budapest, Pázmány Péter sétány 1/A
Tel.: +36 1 372 2828
E-mail: fhudecz [at] elte [dot] hu
Homepage: peptid.chem.elte.hu/hudecz.html