Ágnes Kis-Tóth was the winner of the first Famelab event in Hungary with her presentation on black holes and will be representing Hungary at the finals of the Cheltenham Science Festival in the UK. The event took place in the Ceremonial Hall of the Academy on 14 May. The runner up was Lajos Rózsa who demonstrated the surprising evolutionary role of head lice while the audience choice award went to chemist, Béla Fiser.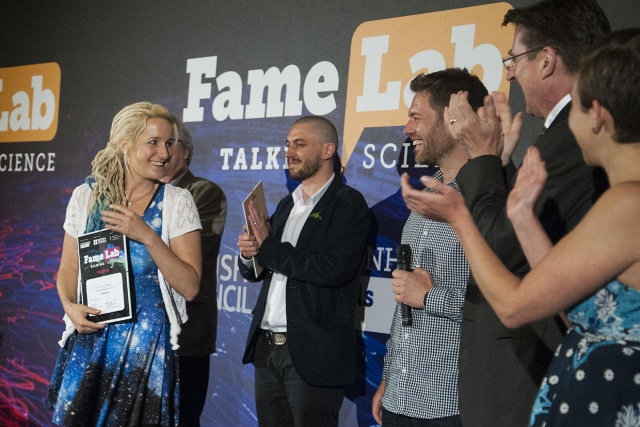 Finalist Ágnes Kis-Tóth (on the left)
credit: mta.hu/Tamás Szigeti
During the competition an official mobile application developed by MTA SZTAKI and part of the Info@Hand package was available to follow proceedings as well as to vote for the audience's favourite contestant. This in the end went to Béla Fiser, a researcher at the Chemistry Institute of the University of Miskolc for his presentation on scent effects and perception.Please click here to see our gallery of the event
The semifinals were held a couple of weeks prior also in the palace of the Hungarian Academy of Sciences. The 46 participants' topics ranged from science, technology, IT to mathematics. Expert judges evaluated the presentations based on content and style and selected the 14 best speakers.