Global agriculture and food industry seems to serve the needs of humanity less and less. What is more, these fields contribute to the strengthening of global climate change. In their joint report, the academies of 130 countries urge that agriculture should be restructured, food wasting should be reduced, obesity, malnutrition and famine should be treated and measures should be taken to protect global climate. The European section of the report of InterAcademy Partnership was prepared by the European Academies Science Advisory Council (EASAC).
What is the situation with food supply and food safety? What diet should we follow? How does our agriculture work? How does all this affect the environment? According to the global report of InterAcademy Partnership (IAP), which represents the academies of the world, the only scientific answer to the above questions is that these systems are unsustainable, and it is in our own interest to change them. The report titled "Opportunities for future research and innovation on food and nutrition security and agriculture: The InterAcademy Partnership's global perspective" suggests abandoning old, traditional methods and they urge that scientific results be utilized by politicians.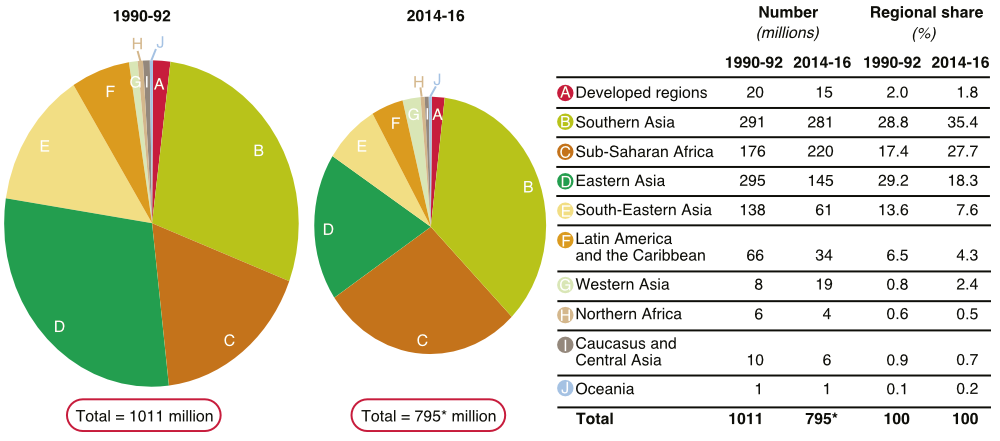 People suffering from malnutrition (in millions) and their proportion across the world (%).
Source: The State of Food Insecurity in the World, FAO 2015 http://www.fao.org/3/a-i4646e.pdf
A heap of problems
As global climate change is gaining force owing to human activity, extreme weather conditions are becoming more frequent, and agriculture and food safety are significantly threatened by the consequences. Food safety is worsening in regions of Africa, South Eastern and Western Asia the most, regions stricken by wars, draughts and floods.
According to data published in 2018 by the Food and Agriculture Organization (FAO) of the UN, the number of chronically undernourished people was 777 million in 2015. This figure rose to 815 million in 2016. Additionally, several of the UN's objectives related to nutrition were not met. Moreover, large masses of people suffer from vitamin and trace element deficiency, e.g. 975 million people have iron-deficiency anemia world-wide. Life expectancy is still lower in Africa due to malnutrition in early childhood.
However, it is a fact that actual starvation was eradicated in several countries, i.e. sufficient calories were consumed. At the same time, the number of people diagnosed of illnesses caused by obesity is steadily rising. What is more, the number of overweight people is higher in the world than that of undernourished people. A great number of children consume a lot of calories but through foods lacking in trace elements. "It is cheaper to buy food rich in calories, which has a severe impact on public health issues" – says Professor Volker ter Meulen, President of IAP.

People suffering from obesity past the age of 18 (2016)
Source: WHO Global Health Observatory on Overweight and Obesity : http://www.who.int/gho/ncd/risk_factors/overweight/en/
To read full report please click here.