The full-time leaders of the Academy are the President, the Secretary-General and the Deputy Secretary-General.
They are all Hungarian academicians who are elected for three years by the General Assembly. Correspondingly, the three Vice-Presidents also serve three year terms.
In accordance with the Academy's charter, the President is responsible for the official handling of the Academy based on decisions and resolutions made by the General Assembly, and is also the official representative of the Academy, practising ownership rights regarding the Academy's estate.
The Secretary-General manages the Secretariat of the Academy and is consequently responsible for the administrative leadership of the research network as well. The Secretary-General is also by default the President of the Council of Research Institutes (AKT).
The Secretary-General is assisted by the Deputy Secretary-General, who acts as a substitute for the Secretary-General when necessary.
Vice-Presidents are assigned tasks delegated to them by the President and are accountable to the General Assembly.
President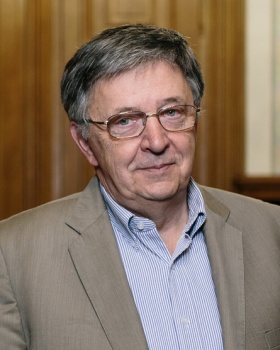 László Lovász
Tel: +36 1 331 9353
Fax: +36 1 332 8943
Mathematician László Lovász was born in 1948 in Budapest. He earned the title of Candidate of Mathematics in 1970, while he earned a mathematics degree and a Dr. rer. nat. title at the Eötvös Loránd Science University in 1971. In 1977, he became a doctor of mathematics, and was elected as an academician in 1979, to be elected as an ordinary member of the MTA in 1985. His field of research was combinatorics and graph theory together with their application in computer-science and operation theory. He has to his name "the local lemmas according to Lovász", "the teta function according to Lovász", and the "Lenstra-Lenstra-Lovász algorithm". He has had a great role in one of the main fields of Hungarian mathematics, i.e. combinatorics becoming a defining field of modern maths. Recently, he has dealt with the mathematic bases of large networks as well as working out a theory of graph limes. László Lovász earned a Bolyai Prize in 2007, and a Széchenyi Grand Prize in 2008. Of the great international prizes, he has received the Kyoto and Wolf Prizes.
Secretary-General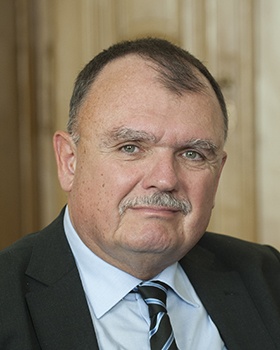 Ádám Török
Tel: +36 1 311 9812
Fax: +36 1 312 8483
Economist Ádám Török was born in Budapest, in 1952. He earned a degree at the Marx Károly Economics University in 1976, becoming a staff member of the MTA's World Economics Research Institute. Occupying a central role in his research were competition policies, market theories, international economics, economic policy and research and development. As a director, he led the MTA's Industrial and Enterprise Economic Research Institute for seven years between 1991 and 1998. He received the Academy's doctoral title in 1994. He became a corresponding member in 2001 and a full member in 2007. In 2004, he was elected to be the President of the MTA's Economy and Law Section, which got him into the Presidency of the MTA. He was elected to be a member thereof on his own right in 2008. Ádám Török has participated in many economic and professional organizations: he led the supervisory committee of the Hungarian National Bank in 1993 and 1994 and in 2009 he became a member of the Budgetary Committee. As an educator, he taught at many Hungarian institutions of higher learning and as a guest professor at several foreign universities. Presently, he is Professor of Economy of Pannon University. From among his decorations, he received the Knights' Cross of the Order of the Hungarian Republic in 2006.
Deputy Secretary-General
Beáta Mária Barnabás
Tel: +36 1 411 6109
Fax: +36 1 311 3868
Plant biologist Beáta Mária Barnabás was born in 1948, Budapest. She earned her degree at the biology-chemistry faculty of the Natural Sciences Division of Eötvös Loránd University of Sciences. She started research work with the Agricultural Research Institute of the MTA. Her specialist area was the biology of plant reproduction and biotechnology. Since 1992, she has led the Biology Section of the Martonvásár research institute as scientific deputy director. She has been responsible for creating Hungary's only plant reproduction workshop. She received the title MTA's doctor in 1989 and was elected as corresponding member of MTA in 2007. Recently, she has enriched our knowledge of the processes in the background of the yield-decreasing effects of drought. She has also directed research focusing on differentiating between genotypes with varying degrees of resistance to aridity. In 2013, she was elected as full member of the MTA. The Vice-President of the Veszprém Regional Centre of the MTA was recognized by several distinctions including the Széchenyi Prize in 2012.
Vice-President (Life Sciences)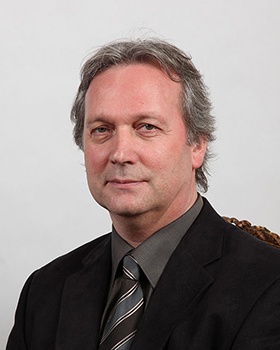 Tamás Freund
Tel: +36 1 302 4808
Fax: +36 1 331 4379
Neurobiologist Tamás Freund was born in 1959 in Zirc. He earned his biologist's diploma from Eötvös Loránd University of Sciences in 1983. He is an internationally acknowledged scholar of the cortex, director of the MTA's Experimental Medical Research Institute. He acquired the Doctor of the academy title in 1992. The MTA elected him as a corresponding member in 1998 and as an ordinary member in 2004. His outstanding scientific results have been recognized by many prestigious prizes at home and abroad. Together with two other Hungarian academicians, György Buzsáki and Péter Somogyi, he was decorated with the 2011 Brain Prize, the Nobel Prize of brain research, for his research results of the organization and functions of the cortex and the hyppocampus, the latter of key importance in processes of learning and memory. Tamás Freund is president of the consortium of the National Brain Research Program, started in 2014 with 12 billion HUF of budgetary resource.
Vice-President (Natural Sciences)
József Bokor
Tel.: +36 1 302 4808
Fax: +36 1 331 4379

Electrical engineer József Bokor was born in Tiszadob, Hungary in 1948. He received his degree from the Faculty of Electrical Engineering, Budapest University of Technology in 1972. After graduation, he worked as a research fellow at the Institute for Control Engineering and Information Technology of Csepel Works, Budapest. He defended his doctoral thesis in 1977 and in 1983 earned his PhD in engineering sciences. He has been working for the MTA Institute for Computer Science and Control since 1987, and in 2008 was elected Director of Research. He has been lecturing at the Budapest University of Technology and Economics (and its predecessor) since 1982. He received his DSc from the Academy in 1990. In 1992, he was appointed as a university professor at the Control and Transportation Automation Department and two years later he was appointed as head of the department. In 1998, he was elected as a Corresponding Member of the Academy and since 2001 he has been a Full Member. His main field of research is automation, especially the theory and automation of linear and multivariable dynamic systems. He is a member of several professional organizations. His results are widely used in the design of vehicles and vehicle dynamics models. In 1987 he received an MTA Award, in 1994 the Dénes Gábor Medal later In 2007 the Széchenyi Award in and in 2013 the Commander Cross of the Order of Merit of the Hungarian Republic. He was elected a member of the Presidium of the Academy by the General Assembly in 2014.
Vice-President of the MTA (Social Sciences)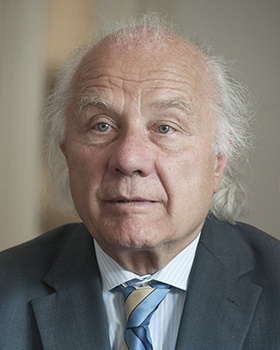 Lajos Vékás
Tel: +36 1 302 4808
Fax: +36 1 331 4379
Scholar of law Lajos Vékás was born in Kolozsvár, in 1939. He received his legal doctorate at the Loránd Eötvös University of Sciences in 1963. With a fresh diploma in his pocket he started teaching at the Civil Law Chair of ELTE, which he was to lead. He worked at first as vice-chancellor at his university, followed by a three-year term as rector. He as a founding rector led Collegium Budapest for five years. He defended his doctor of the academy dissertation in 1984 as researcher of Hungarian civil law, comparative law and international private law. He had studied many fields of civil law including the law of inheritance, economic law, he made a comparative study of Hungarian and German common law and the system of Hungarian property law. He was elected in 1990 to become a corresponding , and in 1995, an ordinary member of the MTA. As leader of the Codification High Committee, he undertook a major role in preparing the new Civil Law. As well as many other medals, his work was recognized in 2004 with a Széchenyi Prize.