News
A short account of the lecture of 16 June 2023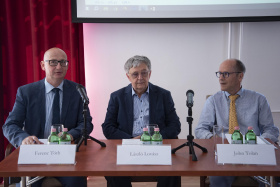 Photo: MTA Kommunikáció
Hungarian experts of Islam and historians specializing in Oriental Studies gathered at the Budapest Hub to listen to Professor Tolan lecturing about how the Muslim holy book appeared in various accounts in Europe from the 15th to the 18th centuries. The public lecture was opened by AE Budapest Hub Academic Director László Lovász, who stressed how glad he was to see on the agenda of the Hub an event which showed the multidisciplinary nature of the Hub's activities and an important topic that helps also the general public understand more of the religious and cultural relations and interaction between the Muslim and Judeo‐Christian worlds.
Professor Tolan highlighted how authors in Medieval and Early Modern Europe (from the 15th to the 18th centuries) depicted the Quran as "a feigned revelation of a false prophet" and Muhammad as the false prophet himself. Initially, the message of the Muslim holy book was downright rejected by its European critics, but later, with actual translations of the Quran into European languages, the Quran was viewed rather as a rival scripture compared to the Gospels or the Torah, and it has even become a tool for polemics between Protestants and Catholics. Also, as evidenced by the works presented in Professor Tolan's lecture, Christian scholars and dignitaries have come to apply a scholarly analysis and comparison of scriptures in their efforts to convert Muslims to Christianity through argumentation, through confronting and refuting the Quran.
Professor Tolan is a regular visitor to Budapest where he has collaborated with scholars from different institutions. He and his colleagues in the "European Quran" ERC research project are hoping to organize in 2025 an exhibition in Budapest on the place of the Quran in European culture.