News
AE Budapest Hub Danube Film Club's first edition
The Danube Region thematic mission of AE Budapest Hub is launching a Danube Film Club event series: co-organized by the AE Budapest Hub and the MTA Hungarian Water Science Programme, the first edition is going to present "Operation Mayfly", a Hungarian documentary co-written by Gergely Balázs and Balázs Lerner and directed by Gergely Balázs. As part of the programme, the two of them will be talking about the great moments and challenges of making this film, which is a wildlife documentary depicting the fate of Danube mayflies in our modern-day setting and efforts to save this protected species from being trapped by artificial streetlights.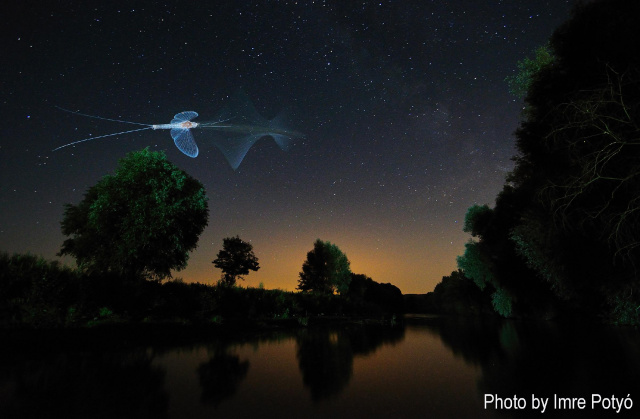 One of the aims of the Danube Region thematic mission of the Academia Europaea (AE) Budapest Knowledge Hub is to organise "Arts and Science" events in order to reach a broader audience with scientific topics related to the Danube river. Documentary films have long fulfilled a role in science communication, and are also useful to trigger discussions, share knowledge and best practices among scientists and naturalists, and also provide a great time to spend. In this first Danube Film Club event, we'll have a panel discussion on the documentary entitled "Operation Mayfly" with the film-makers (Gergely Balázs and Balázs Lerner), an early-career researcher involved in the scientific research and development related to it (Ádám Egri) as well as a member of Academia Europaea (András Báldi). The film presents how hundreds of thousands of protected Danube mayflies (Ephoron virgo) get trapped each year by the polarised artificial streetlights reflected from the bridge surfaces, which they mistakenly identify as water where they lay their eggs in vain and then perish. The research group led by Gábor Horváth and György Kriska at Eötvös Loránd University and the Institute of Aquatic Ecology, Centre for Ecological Research, ELKH, successfully tested a biophysical method for saving the mayflies and helping them to lay their eggs into the river as naturally should happen. The film was shortlisted at several scientific and nature film festivals and won several jury and category prizes (e.g. at the Gödöllő International Nature Film Festival, Hungary, 2017; International Scientific Film Festival, Hungary, 2017; BAIKAL IFF "People and Environment", Russia, 2018).
In the panel discussion panellists will be talking about the life of mayflies, conservation challenges, innovative solutions to film mayflies, and many other questions - including those coming from the audience.
Those wishing to attend the club should watch the film ahead of the event here: https://vimeo.com/227532844
Registration to the event is open at https://forms.gle/zrCBoXVxfT8PoDJHA until 9 March 2022.
The event will be streamed live on MTA's YouTube channel: https://www.youtube.com/c/MTA1825
15:30–15:35 OPENING OF THE EVENT
KATALIN SOLYMOSI, CO-CHAIR, DANUBE REGION THEMATIC MISSION OF THE AE BUDAPEST HUB, AND RECRUITMENT VICE-CHAIR, YOUNG ACADEMY OF EUROPE
15:35–15:40 WELCOME SPEECH
LÁSZLÓ LOVÁSZ, ACADEMIC DIRECTOR, ACADEMIA EUROPAEA BUDAPEST KNOWLEDGE HUB
15:40–15:45 PRESENTATION OF THE DANUBE THEMATIC MISSION AND THE MTA HUNGARIAN WATER SCIENCE PROGRAMME
ANDRÁS BÁLDI, CO-CHAIR, DANUBE REGION THEMATIC MISSION OF THE AE BUDAPEST KNOWLEDGE HUB, AND CO-CHAIR, MTA HUNGARIAN WATER SCIENCE PROGRAMME
15:45–16:00 THE SCIENTIFIC BACKGROUND OF THE FILM - THE TRAPPING EFFECT OF ILLUMINATED BRIDGES ON TWILIGHT-SWARMING MAYFLIES
ÁDÁM EGRI, BIOPHYSICIST, INSTITUTE OF AQUATIC ECOLOGY, CENTRE FOR ECOLOGICAL RESEARCH
16:00–16:15 THE ARTISTIC SIDE OF THE PROJECT - MAYFLIES IN THE VIEWFINDER
GERGELY BALÁZS, FILM-MAKER, BIOLOGIST, EÖTVÖS LORÁND UNIVERSITY, DIRECTOR AND CO-WRITER OF "OPERATION MAYFLY" and
BALÁZS LERNER, FILM-MAKER AND CO-WRITER OF "OPERATION MAYFLY"
16:15–17:00 PANEL DISCUSSION AND Q&A SESSION
PANELISTS: ANDRÁS BÁLDI, ÁDÁM EGRI, GERGELY BALÁZS, BALÁZS LERNER
MODERATOR: KATALIN SOLYMOSI